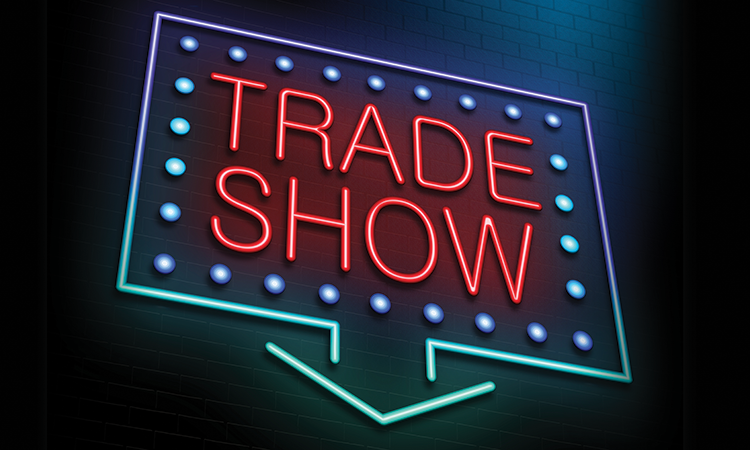 Trade show season is in full swing, and we guarantee you don't want to be the group that shows up with a measly tablecloth and poor-quality printouts. While every trade show presents a different situation (booth size, number of attendees, electronic capabilities, etc.), we've come up with a list of basics to help put your company's best foot forward!
Determine Your Goals
Participate in the event with a clear purpose. Whether you strive to generate new leads, rekindle a relationship with past customers, announce new innovations, learn the latest happenings in your industry, or sell products, always focus on your overall end goal(s). This will help you establish a strategy and define why you are attending the tradeshow in the first place.
Catch Their Eye
You're not supposed to judge a book by its cover, but that doesn't mean people won't judge your trade show booth! This is why eye candy is pertinent. A well-designed backdrop, punchy graphics, and a logical use of your booth's space can grab visitors' attention and entice them to stay awhile.
While videos and sound may create intriguing scenarios, they are not always permitted (or perhaps they're not in your budget). If that's the case, focus on the main graphic that pulls the visitor into the booth. This graphic is important because it needs to (1) showcase your product, (2) accurately represent your company's image, and (3) provide enough intrigue to draw visitors to your booth.
Your graphic can be in the form of a backdrop, a premium table covering, pop-up signage, banners, or something super-creative and custom designed! You don't need a lot of high-tech gear in your booth – just try and think outside of the box (or booth)!
Look at Your Booth from a Visitor's Perspective
Let's say you have a booth offering 11 types of giveaways, an assortment of tasty foods, and a drawing to win a tropical vacation. You might be seen as the "fun and cool" booth, but what is everyone really getting out of it? T-shirts, pens, maybe a trip…but no information on your business! Booths that overload the visitor with the fun stuff are distracting from your main goal – to provide a potential customer with information on your business.
Giveaways are fine, but try to remember that marketing collateral is more important than a fidget spinner. Invest in quality marketing material that your customers can take back to the office and share with others. Make the effort to talk to visitors, engage them in an informational conversation, and follow up with them soon after the trade show. Establishing a meaningful connection is the most important takeaway of all!